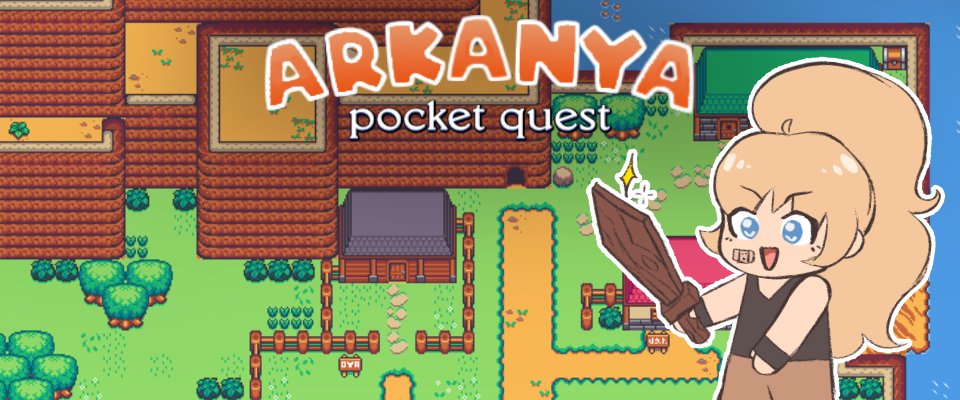 Arkanya: Pocket Quest
A downloadable asset pack
The Arkanya: Pocket Quest asset pack is here to provide a jump-start to your next top-down retro game project, and to help fund continued development of the upcoming action RPG, The Girl from Arkanya!

NOTE: This is an asset pack for indie developers and hobbyists, for platforms such as Tiled, Unity, RPGMaker, or GameMaker Studio. This is not the video game, The Girl from Arkanya!
FEATURES:

A top-down adventure tileset inspired by both classic Gameboy Color games, as well as by the setting of The Girl from Arkanya, including:
480+ Overworld tiles in 16x16
300+ Dungeon and interior tiles in 16x16
All money raised by Arkanya: Pocket Quest will go toward the development of The Girl from Arkanya!
If you're considering purchasing this asset pack because you're a fan of Arkanya Games, we want you to know that 100% of the money we receive from your purchase will be used to fund the continued development of The Girl from Arkanya! We operate on a shoestring budget so every little bit helps give us some more breathing room.
LICENSE:
What you CAN do:

Use materials contained in this asset pack for commercial video games, game jams, or personal projects.
Modify the contents of this asset pack in any way you like.
Use the contents of this asset pack to promote your commercial video game or personal project.
What you can NOT do:
Resell, repackage, or redistribute the contents of this asset pack in their original or modified form.
Create trademarks or service marks using assets contained in this pack or derivatives of those assets.
Use branding, logos, intellectual property, or promotional materials owned by Arkanya Games in a commercial capacity if they are not included in this asset pack.
Use assets contained within this pack, or derivatives of those assets, to create, promote, or distribute NFTs, cryptocurrencies, or play-to-earn style games.
Resell parts of this asset pack as physical merchandise. Some circumstances such as art books containing screenshots of your game/project may be exempted from this rule. Please contact Arkanya Games for clarification.
Q&A:
Will this pack receive updates?

That's the plan! However, Arkanya Games does have other projects in the works, so the quantity and frequency of updates will be based on how well the asset pack does.

Can I request a tile to be added?

Absolutely, please mention it in the comments! I cannot make any promises but I'm willing to consider any reasonable suggestion.

Will there be additional packs in the future?

If enough people ask for it, then yes.

Can you make a version with transparencies for modern multi-layer tile editors such as Tiled?

Sure can! That will be made available very soon, but for now I wanted to focus on releasing a more true-to-form Gameboy Color-esque tileset.

Why is there so much empty space on these pages?

So I can give you more stuff later! I want you to be able to download updates for the tileset without fear of breaking your projects, so I've left plenty of room to add future content.

Can I credit you in my game?

You don't have to, but that's great if you do! You may credit Arkanya Games, BeanBandit, or Harrison Withrow, whichever suits your fancy!




SUPPORT ARKANYA GAMES:

If you would like to support Arkanya Games in other ways, please consider wishlisting The Girl from Arkanya on Steam (wishlisting is free and helps us a lot!), or following us on Twitter!
Thank you and please enjoy Arkanya: Pocket Quest!
Purchase
In order to download this asset pack you must purchase it at or above the minimum price of $4 USD. You will get access to the following files:
Arkanya Pocket Quest 0.93.zip
2 MB
Comments
Log in with itch.io to leave a comment.
Just got it. Not sure whether I'll do anything with it or not but it looks fun anyway.
Same, really neat pack =)
Thank you so much for your support!